Partner Assault Response (PAR)
The Partner Assault Response (PAR) Program helps men identify their abusive behavior and provides them with an opportunity to change. The PAR Program is NOT an anger management program. You need a court order to attend the PAR Program.
The PAR Program offers a group which will help if you:
Are controlling and far too jealous;
Have hit your partner, called her/him names, insulted her/him and/or raised your voice;
Have thrown things at your partner or children;
Cannot accept that the relationship is over.
The program will help you:
Take responsibility for and being aware of, abusive and controlling behaviour which hinders healthy relationships;
Improve your communication skills in order to become a better partner and/or parent;
Become trustworthy again.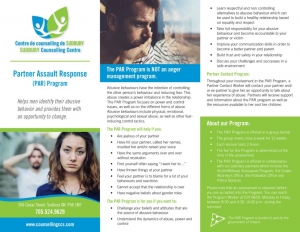 Please note that an eligibility assessment is required before you are accepted into the program and you can reach the PAR program worker at (705) 524-9629, Monday – Friday, between 8:30am and 4:30pm. A participation fee may apply.
For general inquiries or to speak directly with the Intake Worker please call 705-524-9629;
or contact us.
Note: A participation fee may apply.