Male Survivors Program
You have already survived, now it's time to recover. Sexual abuse and assault can happen anywhere and to anyone. For men, telling someone that they have been abused or assaulted is often very difficult.
Living in silence or ignoring the trauma can lead to emotional, mental, spiritual and physical challenges.
The Male Survivors' Program provides free and confidential counselling support to men who have experienced sexual abuse or assault. The program supports men aged 16 and over to regain a sense of control over their lives by developing positive coping skills. It is designed specifically to meet men's needs in a way that speaks to men.
** Services are also provided to support partners and/or family members.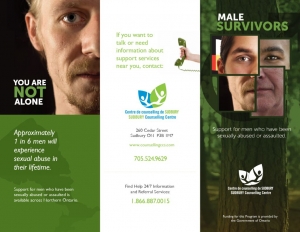 For general inquiries or to speak directly with the Intake Worker please call 705-524-9629 or Find Help 24/7
Information and Referral Services 1-866-887-0015; or contact us.